Sizing Your Custom Gun Belt
NOTE: It is very important to obtain the correct measurements for your new custom gun belt because belts measured wrong are not returnable. Remember, I am making a belt based on the information you provide me.


AND ANOTHER NOTE: If you wear an IWB (inside the waistband holster), you must measure your belt size with the belt you use with this holster. Measure the belt with your holster and firearm on to obtain an accurate measurement. If you measure the belt you use with your OWB (outside the waistband) holster, the new belt will come out too small if you plan to use it with both holsters. If you have any questions concerning Sizing please contact me before ordering. Once again, if you measure your belt wrong they are not returnable.

Please use the guide below to correctly measure your belt size. The belts are sized to the center hole giving you more flexibility with your belt.


Step 1: Procure a measuring device (tape or straight edge).
Step 2: Place your current belt on a table and lay it out as flat and straight as you can.
Step 3: Place your measuring device or straight edge on end of the tounge on your buckle, and measure to the belt hole that you currently use. Provide me your measurement in inches. If this measurement is 36", order a 36" belt. If this measurement is 39", order a 39" belt.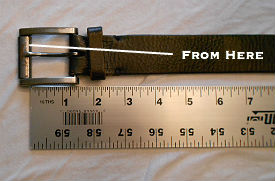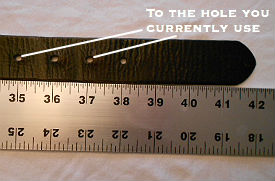 Please contact me for additional information or to place an order. I'm very happy to answer any of your questions. I encourage it! 8-)