Ordering and Sizing Your Custom Gun Belt
Step 1 - Pick the the color of your new gun belt
Step 2 - Specify your gun belt width: 1 1/4", 1 1/2", or 1 3/4" (+ $5)
Step 3 - Pick your buckle number
Step 4 - Choose a color for your top thread
Step 5 - Specify the number of holes you want on your new gun belt and how far apart you want them. The standard is seven holes, 1" apart. I can also punch nine holes 3/4" or 1/2" inch apart. Whatever you'd like.
Step 6 - Pick a belt hole style. Oval or Round.
Step 7 - Obtain your gun belt size from the instructions below
Step 8 - Email me at zach@zachsgunbelts.com with your gun belt order. Simply copy and paste the seven lines below into the body of your email message with the information. Also, please include your mailing address so I can estimate the shipping cost for you.

Belt color:
Belt width:
Buckle number:
Top thread color:
Number of holes:
Hole style:
Belt measurement:

Step 9 - Once I recieve your order, I will send a PayPal invoice to your email address. This invoice will include your final price which includes your gun belt, shipping costs, and local sales tax (if you live in Georgia). Out of state customers are not subject to Georgia sales tax. Make sure everything is correct so we're both on the same page. This invoice will give you the option of paying with your PayPal account, credit card or debit card. Contact me if you have any questions about this.
Step 10 - Send your payment. YOUR BELT WILL NOT BE STARTED UNLESS THIS STEP IS COMPLETE.

SHIPPING: Once I finish your gun belt, I'll ship it using USPS Priority. I will provide you a tracking number once I recieve it from USPS. This is the cheapest way to ship your belt at this point. Shipping is charged at the actual rate charged to us by USPS or carrier you specify. If you require a quicker method of shipping, let me know.


Sizing Instructions
NOTE
:
It is very important to obtain the correct measurements for your new custom gun belt because belts measured wrong are not returnable. Remember, I am making a belt based on the information you provide me.
AND ANOTHER NOTE: If you wear an IWB (inside the waistband holster), you must measure your belt size with the belt you use with this holster. If you measure the belt you use with your OWB (outside the waistband) holster, the new belt will come out too small if you plan to use it with both holsters. If you have any questions concerning Sizing please contact me. Once again, if you measure your belt wrong they are not returnable.

Please use the guide below to correctly measure your belt size. The belts are sized to the center hole giving you more flexibility with your belt.


Step 1: Procure a measuring device (tape or straight edge).
Step 2: Place your current belt on a table and lay it out as flat and straight as you can.
Step 3: Place your measuring device or straight edge on end of the tounge on your buckle, and measure to the belt hole that you currently use. Provide me your measurement in inches. If this measurement is 36", order a 36" belt. If this measurement is 39", order a 39" belt.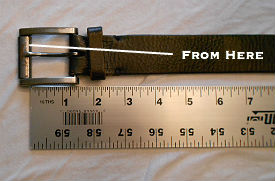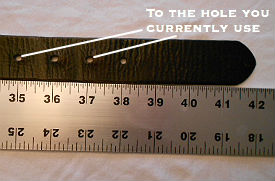 Please contact me for additional information or to place an order. The current time to complete your order averages between 3 - 5 days.